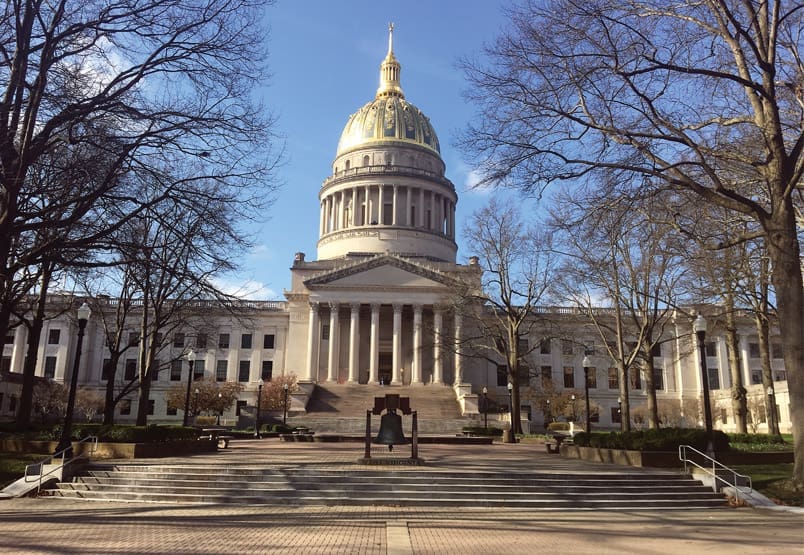 A JOURNEY OF PRAYERS

Many movements have happened across our nation over the years and one of the most influential events still spoken of today is the Azusa Street Revival. The Revival took place in Los Angeles, California, and ran from 1906 to about 1915. Its profound impact on the Charismatic and Pentecostal faiths are undeniably still at work today, and it all started with a humble pastor who was the son of emancipated slaves named William J. Seymour. Now, consider this: how many moves of God have been initiated over the years by countless others that you don't know about but God does? Too many to count I would imagine. There is no doubt there are many assignments occurring every day right here in West Virginia, across the country, and around the world. All of them taking place without much fanfare and the lasting impact will not be realized until the timing of God is met.
One man's personal journey of praying over all of the 55 counties in West Virginia began around 2002 as Reverend Gary Garden learned. Around 2015, his mentor and friend Dr. David Chedester revealed the burden God placed on his heart for the state during the early 2000's. Dr. Chedester was the first director of Faith Christian Fellowship in Morgantown, and both were teachers at West Virginia Christian University. He felt God directed him to go to the county seat in each county to lay hands on the cornerstones and pray that the will of God be done for that area. As they discussed the event, both were quickened in their spirits to renew the pledge and consecrate the state to Christ again. Little did they know, Dr. Chedester would pass away before the attempt.
Shortly after his death, during the summer of 2016, Gary felt a stirring in his spirit to continue the journey, and the Lord guided him to enlist brothers in the faith, ten including himself, to help pray over them, and those who could would travel to the counties. The plan was simple: travel to the courthouses, lay hands on the cornerstones if found, pray for the souls of that county, and consecrate the county and souls to Christ. Gary formulated a travel strategy, and their journey began on Friday, November 3rd, 2017.
"The Lord put it on my heart that this was not to be a show," Gary stated.
"I don't say that to criticize any of the other prayer movements that have happened. We didn't have a name–it was not a movement with a name. We weren't doing any merchandising or anything. We didn't tell anybody. In fact, at least a couple of times they wanted to announce it at our church that we were doing it, but I wouldn't let them say that we were doing it."
In his correspondence with the others, Gary references Acts 28:3-4 where Paul encounters the serpent in the woods. The verse was used as a reminder to help them focus on the mission alone and to be aware of those serpents in the world such as, drug addiction & alcoholism, human trafficking, cancer, corruption, sexual perversion, idolatry, violence, poverty, and ungodliness, that were wetting down the wood being gathered for the fire of revival.
"The Lord has called us to go pray," Gary added, "because this isn't the revival but the beginning of the gathering of the wood for the fires of revival. So when we start, the snakes are going to come out."
And when Paul had gathered a bundle of sticks, and laid them on the fire, there came a viper out of the heat, and fastened on his hand. And when the barbarians saw the venomous beast hang on his hand, they said among themselves, No doubt this man is a murderer, whom, though he hath escaped the sea, yet vengeance suffereth not to live. Acts 28:3-4 KJV
They wanted the journey to flow like anointing oil, so they started in the Northern Panhandle and moved down the state–except Upshur County was done last. When looking at a map of the whole United States, West Virginia sits in the area of the heart of the country and Upshur County is positioned as the heart county of the state. It took eight road trips to reach the outlying counties with the final visit made at the Upshur County courthouse on June 3rd, 2018.
"We didn't want this to be a social gathering…there was a definite seriousness to it," Pastor Jamie Gizzi said. He is one of the ten brothers in Christ Gary enlisted and the lead pastor at Bethel Temple Christian Center in Bridgeport.
The men didn't know what they would encounter when they headed out because of the day and age we live in, but by the grace of God, there was no trouble. They kept it low-key, searching for the cornerstones, laying hands on them if found, prayed, and went on to the next location. They went forward with no expectations, but with a spirit of anticipation of what may come of the journey.
One thing they were definitely not expecting was the amount of poverty, homelessness, and despair they witnessed across the majority of the southern counties.
"We were driving into one community," Pastor Gizzi paused as he remembered.
"The way the road was situated, the road going into the town cut the town in half–an upper half and a lower half. As I was sitting in the back seat looking out the window, there were places where you could literally look inside people's houses. There were holes in the roofs and tarps covering them. It broke my heart because I knew there were parts of the state like that. I had been to probably half of the state prior to these trips, and now my feet have touched every county, and it just shocked me."
Each visit was done quietly so as not to bring attention but the visit to Williamson in Mingo County turned out to be entirely different. They arrived at the courthouse, and it just happened to be May 3rd, the National Day of Prayer, with a group of people inside to participate. With such a small town, people can usually tell when there are strangers around and as the prayer event was letting out people were everywhere.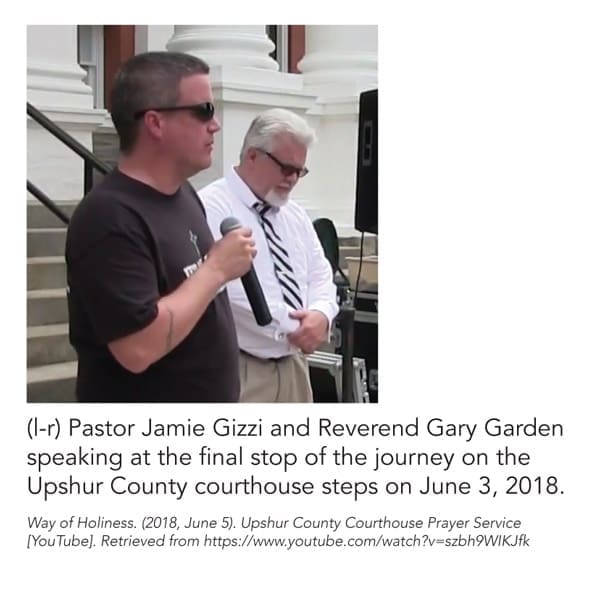 Pastor Gizzi stayed back to observe as the others prayed at the front of the courthouse. He saw a young man out of the corner of his eye who had done a double-take looking at them. Then, a group of people came out carrying musical equipment. When they found out what the men were doing, they joined in. After a few minutes, the new found friends began praying over the men and their quest.
Gary and the others explained that Williamson was the 53rd county visited and they were going to head to Logan next, then wrap the event at a celebration of prayer on the courthouse steps in Upshur County. One of the young men ended up driving them to the Logan County courthouse because the GPS would not work since they had no cell signal.
When they arrived in Logan, they didn't know there was an election that day and that there was going to be people in and out of the courthouse. The young gentleman who drove them began to get excited while they prayed outside. He was overwhelmed and started to preach in the street loudly. His voice echoed up and down between the buildings as the local high school drama club was set up just down on the corner selling baked goods to those who were coming to vote. One veteran with a Korean War hat nodded with approval and said, Amen, while others just looked on.
"In Doddridge County," Gary told us, "we were praying for law enforcement and for God to bless them. That happened right as law enforcement was doing their job bringing someone in."
"Orange jumpsuit and shackles and everything," Pastor Gizzi interjected.
"Both of them bowed their heads, right there where we were, and prayed."
In Winfield, as a woman was leaving the courthouse, she saw them praying and joined right in, never even asking a question about what they were doing. When the prayer was over she said, I felt that one, and went on about her way.
When on assignment, people seldom see personal or spiritual fruits immediately. Gary and the other brothers in Christ were blessed to see a few along the way including one that had a statewide effect.
"On behalf of my Pastor, Jerry Murrell," Gary said, "He came to me at one time in the middle of this and said, 'we are seeing first fruits of this because I've been pastor here for 30 years and never has anyone from the legislature asked me to come down and open the session in prayer.' Both houses asked him. We had just gone down to Charleston. We did Kanawha County and went over to the capital grounds and prayed."
"From a spiritual standpoint," Pastor Gizzi added, "It proved to me the fact that Jesus really meant what He said about the separation of the wheat from the chaff.
Whose fan is in his hand, and he will thoroughly purge his floor, and gather his wheat into the garner; but he will burn up the chaff with unquenchable fire. Matthew 3:12 KJV
"If you really pay attention to what is going on in 'Christian circles' today, people are catching on fire–die-hards for Jesus Christ–and others that are just playing the game and going through the motions. It fired me up."
"This will sound weird," Gary concluded, "but, from a spiritual standpoint, this was a hard thing to do. In the beginning, it didn't look like a hard thing to do or how it was going to grab you by the heart. Here we are in the 21st century, we've got roads everywhere, the internet, and yet in West Virginia, in every little Hamlet and every little town, they are spiritually isolated from every other little town.
"We go through stuff basically alone. We have no idea what is going on around other towns in West Virginia, and then you go and see these different things happening. I don't want to cheapen it by just saying this experience was humbling, because it's so much more than that. It's easy to forget about your aches and pains and speed bumps when you see you've got so many neighbors who are going through so many things. It's staggering when you think about it."
"God allowed us to live out what you read in the statewide metro news," Pastor Gizzi noted.
"This state is a treasure," he continued, "and I don't mean that from a natural perspective. Looking at this state from a supernatural spiritual perspective, it is a treasure. There are a lot of God-loving, God-fearing people here. It reminds me of when the two guys were talking about Jesus and said, can anything good come out of Nazareth? Look at all the typecasting that has been done here in West Virginia."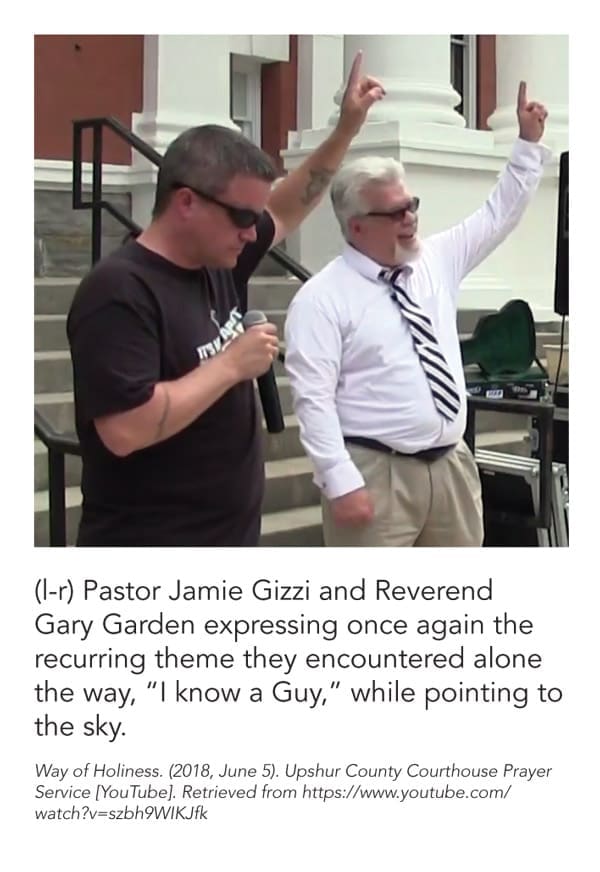 On five separate occasions, different people spoke to Gary about a vision over West Virginia and how the state was like a heart with a band of angels around its borders. The heart was pumping life into the rest of the country. The first person to do so was his friend and mentor, Dr. David Chedester.
"We're not done," Gary replied.
"It's not a 'one-and-we're-finished.' That will underestimate this fire if that's all the wood we think there is."
Feature Image: Pastor Jamie Gizzi