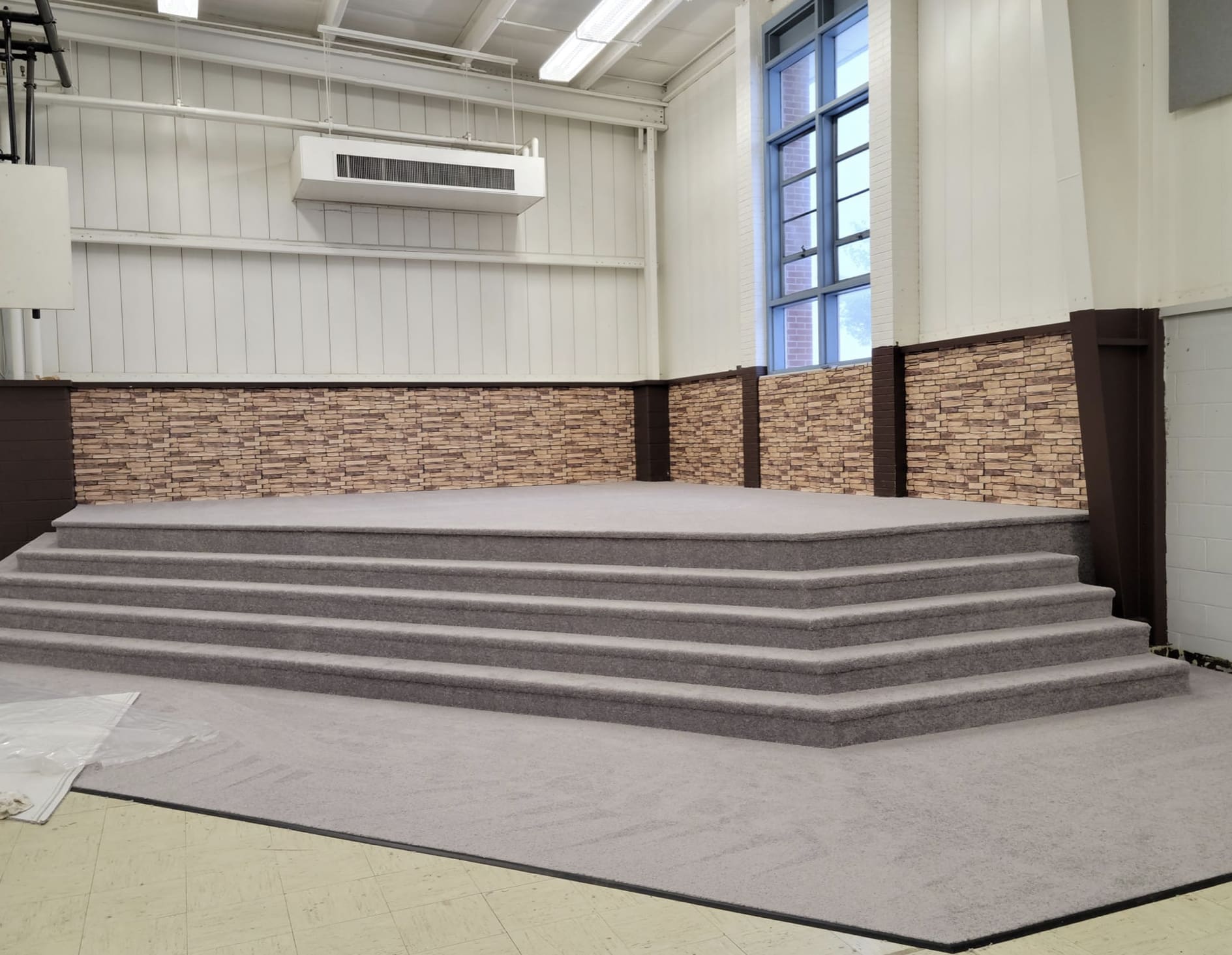 "I want to encourage anybody who has a vision from God to write that vision down and make it plain."

Pastor Jason Boggs, RGOWC
God gave Pastor Jason Boggs of Redeeming Grace Outreach Worship Center (RGOWC) a vision three months ago. A vision to restore the community and procure the Franklin Elementary School in Pendleton County, WV and expand their mission to help build God's kingdom. In the December – January 2022 issue of Glory Magazine, (See Article Here) we interviewed Pastor Jason, and not once did he waver from his faith in God to provide for the vision. The additional location and space would allow RGOWC to expand its services, such as housing for the homeless and enlarging their food pantry. It also allows them to create a youth center with recreational programs, extend their addiction program, and facilitate a larger area for church services.
Pastor Jason passionately shared the vision, and raising funds to support the purchase began. In December, the RGOWC had raised $30,000 and were believing God to be fully funded before the New Year.
In a Facebook post on January 11, 2022, Pastor Jason spoke to the audience and revealed that the vision had been manifested with great humility. On December 26, 2021, he received a message from Pastor Greg Locke of Global Vision Bible Church out of Mt. Juliet, TN, to call him back. After his service, Jason called and learned that an offering was taken up by Pastor Gregg, his wife Taisha, and the congregation at Global Vision to help purchase the Franklin Elementary School. That offering, and the radical faith of RGOWC and the Global Vision family, completely covered the cost of the building and it is now RGOWC's!
"Global Vision is constantly reaching out to people and giving all the time," Jason said as he teared up. " Just like that! Every Sunday, they are helping some ministry to do something for the kingdom of God, and it brings me to tears.
"I am so thankful to be a part of Global Vision and thankful to be a part of the kingdom of God."
RGOWC closed on the property Wednesday, January 12, 2022, paying the $426,000 for the facility. The money was given with no strings attached and the facility is wholly owned by Redeeming Grace.
And the Lord answered me, and said, Write the vision, and make it plain upon tables, that he may run that read it. For the vision is yet for an appointed time, but at the end it shall speak, and not lie: though it tarry, wait for it; because it will surely come, it will not tarry.

Habakkuk 2:2-3 KJV
The day after signing the contract, the cleaning and re-purposing began. Around fifteen to twenty volunteers have shown up daily to help get the building ready for what God will have RGOWC do. Surprisingly, Jason found out that the building was not two but three stories, with a full basement which includes showers, bathrooms, and additional rooms that can be securely maintained for use as housing those in need with minimal remodeling. This extra space will help create a safe environment for the children's services on the top story. Parents can rest assured security can be maintained.
Volunteers have been busy scrubbing and cleaning, but much work is still to be done, such as waxing the floors, cleaning and supplying the large kitchen, and constructing the altar in preparation for services as soon as possible. On January 17, the contractor surprised Jason when he requested he stop by to go over some ideas. Jason entered the gymnasium planning to go over the vision, and found the beginnings of the six hundred and twenty-five square foot altar taking shape.
"God gave me a vision of this altar to really show me His heart towards His people," Jason said. "To build this altar for people to be able to come down and worship before the Lord. Having the stairs wrap all the way around makes it into an altar all the way around the entire platform. To me, the entire thing is an altar."
The altar is located on one side of the gymnasium, with the other side reserved for a half-court basketball space for the youth center. They plan to have the area open when in use by the youth center, then place folding chairs in the area for church services.
"Hundreds of people called me nuts for even thinking this was possible," Jason expressed. "People that said, 'We don't want this to happen.' I want to encourage anybody who has a vision from God to write that vision down and make it plain. Tell everyone that God has told them to tell about it. And, also understand not everyone is going to be on board. However, that doesn't mean that it's not possible. If God gave it to you, that settles it!"
"We will definitely still need a lot of volunteers and a lot of people to come and support the vision. This is an opportunity to be a part of the body [of Christ]."
---
To see updates on the building or donate to the Redeeming Grace Outreach Worship Center, visit them online at:
Web: www.rgowc.com
FACEBOOK: facebook.com/rgowc
GoFundMe: www.gofundme.com/f/a-new-location-to-accommodate-a-growing-ministry
Want to download the magazine in PDF format? Click here to print and share.
Feature Image: Redeeming Grace Outreach Worship Center, Facebook,[image] Jan. 28, 2022