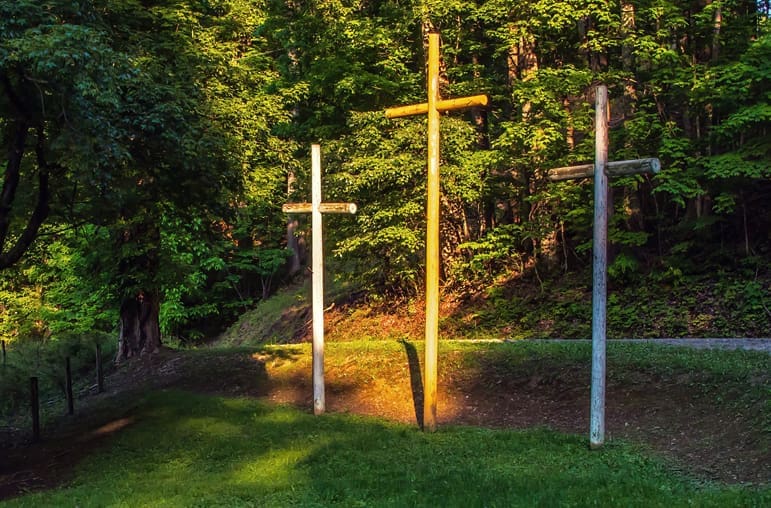 Lessons to Walk Worthy: My testimony will focus on lessons I have learned during my walk with God this time and for the foreseeable future. 1 Thessalonians 2:12 is my guiding scripture for 2022. My walk with God is my passion, my life, the thing that consumes my thoughts. It is not so I can feel special, feel content, or sit back and bask in His peace. It is my pursuit in trying to accomplish God's will for my life. I want to serve Him, please Him, and reveal His glory so that others might find Him.
The photo of the train tracks reveals two directions; one heads downhill and represents my old past life in the world. I spent a lot of time on that track portraying myself as a Christian but living life for myself and not God. In past testimonies, I have detailed that worldly life that was focused on golf, fishing, golf, WVU sports, golf, gardening, golf, photography, golf, etc., and yes, including golf. God would get some Sundays, some tithes, the occasional good work, some dabbling in the Bible, and lots of me-oriented prayers.
Walk worthy of God who calls you into His Kingdom and Glory. 1 Thessalonians 2:12 NKJV
The other track became my journey once I became saved. I call it the right track versus the wrong one that I traveled so long. It is not easy, it wasn't intended to be easy, but it brings you great joy. Thankfully, if you are sincere in your faith, God gives you the strength and ability for that journey. It is a journey of lessons, strengthening you and preparing you for accomplishing His will for your life. Over the several subsequent editions, I will share some of the lessons and the things I've learned that have been so helpful in my attempt to walk worthy of the Lord. I pray that some of the lessons I have learned may help your walk with Him.
Lesson 1
"Bear one another's burdens and fulfill the law of Christ"

Galatians 6:2
A couple years ago, my wife and I had to go to United Hospital Center (UHC) in Bridgeport, WV, which is about forty-five minutes from where we live. Following whoever's appointment was that day, we stopped at the nearby IHOP Restaurant for lunch. It is a popular spot for those who have just been to UHC. While there, we noticed several elderly people accompanied by a younger person who obviously was the driver or caretaker for the day. As one elderly person was being escorted out by their caretaker, one of us remarked how nice it is they have someone to help them. The other commented, "I wonder who will be there in our time of need?" Not having children or grandchildren can be concerning. But a lesson I have learned over and over is that God is amazing, ever faithful in providing for our needs.
Sixteen months ago, just after I had been diagnosed with serious heart disease, per the cardiologist's words, a friend stopped by to shovel snow off our driveway. As I was getting the shovel for him, I almost passed out. He immediately took me to the emergency room. Liva could have taken me, but she wasn't dressed yet. God's timing with my friend there was perfect. Over the next sixteen months, we were humbled and grateful for all the kindness extended our way. One couple became our lifeline calling every day and always bringing food and getting items from the store. Others also were kind enough to drop by with delicious meals and goodies. Plus, we never had to worry about getting the snow removed from the driveway and walkways as a couple Christian brothers have always been there for us. Liva and I have praised God many times for all the acts of kindness extended to us. We now realize that even if we have no direct family here in Buckhannon, God will make sure there will be friends nearby when we need them.
These acts of kindness have had a profound effect on me. Several months ago, I read a devotional on Galatians 6:2 (bearing one another's burdens), and it was like "Wham!" a major realization for my walk with God. I have often thought about how I actualize "loving others as myself?" Yes, I have long tried to be helpful. Our Band of Brothers "Help us Help Kids" project was borne out of a desire to try to help disadvantaged kids at Christmas. But I can't say that "looking out for others" has been one of the arrows in my daily quiver, though. It was only one of those things that I would bring out if a need surfaced or around Christmas time. The rest of the time, I tended to focus on loving myself versus actively trying to "bear one another's burdens." My walk with God during my recovery taught me that there is so much more I need to do in this regard. I now realize that helping those in need must be a lifestyle, not the occasional feel-good activity, i.e., I MUST be proactive in identifying those needs. I love the challenge of making that a reality. I regret it took me so long to learn this most important lesson Jesus requires us to obey. As you will see, my second lesson learned is closely linked to my first learning of walking worthy of God.
Lesson 2
"I tell you the truth," Jesus said, "this poor woman has given more than all the rest of them,"

Luke 21:3
"To whom much is given, much will be required,"

Luke 12:48
It was a raw early mid-November day when a Band of Brothers' friend and I were selling calendars outside of the Buckhannon Dollar Store, raising money to help disadvantaged kids at Christmas. Sales and donations had been steady when this old jalopy-looking truck pulled up. An elderly couple got out and slowly walked to the store. The lady, who was a little bent over as she approached the front door, glanced our way, and we said good morning or something to that effect. A crease of a smile on her wrinkled face was partially obscured by a scarf around her head. After a bit, she stepped back out, holding the door while her husband pushed his cart through, heading for the truck. She strolled over, asking what we were selling, and my friend told her what we were doing. She inquired how much the calendars cost. We replied with $15. She then took out a worn cloth purse from her tattered coat pocket and slowly deposited coins, mostly pennies, into a donation jar. I will never forget when she remarked with a hint of sadness in her voice that she couldn't afford a calendar, but she wanted to help. It took a while for her to empty her purse full of pennies and a few other coins, which amassed to a little less than four dollars. She left with a calendar for which she genuinely expressed her gratitude and wished us good luck, again with a crease of a smile on her gentle but worn face. Only the Lord knows how long she had carried around that pocketful of change and what it cost her to give it up. I was reminded of the story of the widow's mite in Luke 21: 1-4. It was very humbling!
The old truck had no sooner pulled out in what seemed like slow motion when a shiny new Audi flew into the empty spot. Out jumped a much younger woman with a spring in her step dressed to the nines like she was going to an LLBean photo shoot. She noticed us and quickly circled around us to not make eye contact. When she came out, she followed that same circuitous route. My friend spoke up with something like, "we are selling West Virginia calendars to help disadvantaged kids." Not looking at us, she mumbled something inaudible, jumped in her car, and was gone in a flash with her college decal proudly displayed on her back bumper. Maybe she was in a hurry; we've all been there. Sadly, there was no crease of a smile, no encouraging word, only what seemed like a sneer and an inaudible comment. I have thought about both women more than a few times, one who gave everything and the other who had been given so much.
Later that afternoon, I separated the rest of the change from the pennies the lady donated and added an equal amount to what we collected that day. I put the lady's pennies in a bag and placed them on my desk as a reminder of her kindness and that I can and must do much more. I move the bag around periodically so it doesn't become an unseen part of my surroundings. You know how things can become just a part of the scenery. I need to be reminded frequently of how much I have been given and how much more I can do, or more precisely, "how much more is required of me." I finally get it and am trying to apply this lesson to my daily life.
These were two important lessons for me. I now know they are Jesus' truths about loving. I didn't make them up; he spoke to them as the Gospel quotes confirm. They represent how each of us can pick up our crosses and follow Him (Matthew 16:24-26). I recently read that everything Jesus ever taught and lived revolved around love. He instructs us to do the same and tells us how. He asks us to use our gifts, talents, and riches to help others. I am trying to obey His command to follow Him by applying these lessons and others to my walk with Him. It is not always easy to stay on the right track, as I indicated earlier. But I'm finding that He, through the Holy Spirit, is guiding my path, for which I can't praise Him enough. Next time, I will cover more lessons that I have gleaned from the Bible that apply to my journey with Him and keep me on the right track.
Have a Blessed Easter.
Learn more about the author, Al Tucker
Feature Image: Alan Tucker | Scripture taken from the New King James Version®. Copyright © 1982 by Thomas Nelson. Used by permission. All rights reserved.