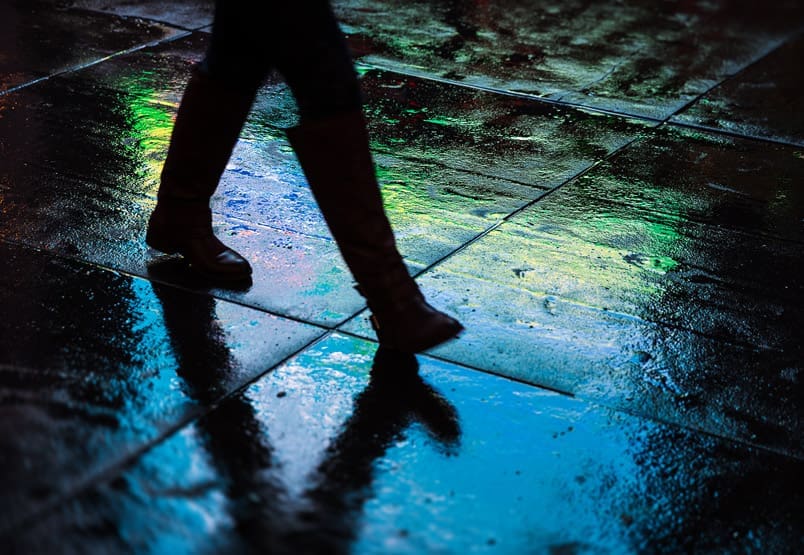 How gangs, drugs, prison, and cancer was no match for our mighty God when it came to Carlos Reyes. He went from walking dead to walking among the living, evangelizing with Teen Challenge, and establishing Daybreak Ministries.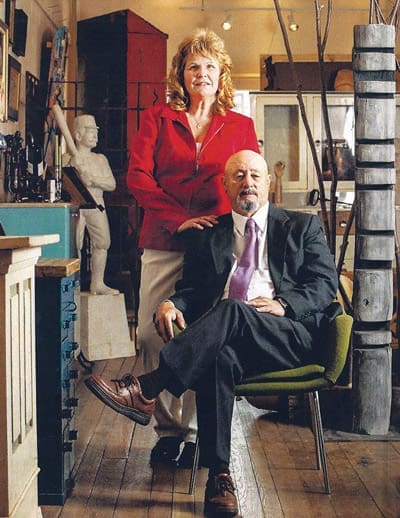 Updated Original Post from December 2017
Reyes to speak at the Northern Appalachian Teen Challenge 2023 Annual Banquet. This is a ticketed event. See below.
Carlos was born on the island of Puerto Rico. His mother, newly separated, moved the family to New York City when he was very young in search of a better life. A life searching for the 'American Dream,' you could say, but, for Carlos' early years, it became his nightmare.
As a young boy on the mean streets of the Big Apple, Carlos was offered marijuana. It was something 'fun' to do. Still, the influence of the drug came with a voracious appetite to supplement the high with alcohol. His teenage years were thronged with run-ins with local police, and he was back and forth from detention centers for troubled teens.
High school meant belonging to a gang to survive for inner-city kids. Carlos was no exception and became a member of the Untouchables gang, where he eventually ascended to the Warlord. The Warlord was the one in charge of mobilizing the group for fighting, whether it was for retaliation or recreation. A life of crime dictated by gang rules and filled with drugs, alcohol, and eventually, prison left him a homeless junkie on the streets. He penned his autobiography The Warlord three years ago, detailing his life on the streets and the redemptive power of the God who loves him.
A turning point in his life came when a woman walked up to him and said, "Jesus loves you." After that experience, he wound up at a church. He attended a few times and finally found the courage to go to the altar. When I asked God to allow him to be human again, God did not hesitate to answer. Carlos remembers hearing the words, "Welcome home, son," and his life changed from that moment on. Although it was not a straight shot to where he is today, husband to Dian, father of four children, grandparent of thirteen, and cancer survivor living in Pennsylvania, his experience was the catalyst God used to redeem Carlos from his addictions and choose a life serving others.
From Warlord To Teen Challenge To Evangelist
Carlos was also one of the gang members taken in by Teen Challenge in New York. Teen Challenge was founded in 1958 by David Wilkerson. It was established to help teenagers overcome addictions. Wilkerson, a small-town preacher from Pennsylvania, was drawn to New York City to help counsel young gang members who were on trial for murder. He soon discovered there was a drug epidemic within the teenage gangs on the streets of the city. He felt compelled to stay and did a series of rallies where many gang members received Christ as their Savior. Two members, Nicky Cruz and Israel Narvaez, from the infamous Mau Maus gang, were among those professing Jesus as their Lord. They even turned in their weapons for Bibles.
After Carlos' miraculous conversion, he traveled the country for Teen Challenge and ministered alongside David Wilkerson and Nicky Cruz. He also gave his testimony at gatherings with Ruth Cowgill, the "Mother of Teen Challenge," to shed light on the real story of drug addiction and how God was the only thing that worked.
IIn the late 90s, Carlos took part in the Billy Graham Crusades in Puerto Rico. He was there for eighteen days through the kindness of a church which paid for his expenses. In San Juan, 75,000 people attended the crusade each night over five days. It was seven years after his mother's death before he found out about her passing, so he took the opportunity to visit his mother's grave for the first time while in Puerto Rico.
Some years passed, and Carlos was in a position where he was frequently speaking to high schools and at rallies. During this time, he realized he was being called to be an evangelist and minister to the youth. He was then offered three jobs; two were a guaranteed salary, and one only had minimal support.
Reverend Ruth Cowgill had found out he was in ministry in Somerset, Pennsylvania. She contacted Carlos and invited him to speak at her church in Maryland. The decision was to ask Carlos to join them and start a youth ministry. This was the offer with minimal support, and Carlos was compelled to pursue it. He realized some programs dealt with youth addictions and problems after they had already been using them. Still, there were no programs geared toward drug prevention. The urge to continue his ministry speaking on this subject became his passion.
The number of Opioid Treatment Programs has increased from approximately 1,100 in 2003 to almost 1,500 by the end of 2016 and the number of clients receiving methadone on the survey reference date increased from about 227,000 in 2003 to over 350,000 in 2015.

Source: Alderks, C.E., Trends in the Use of Methadone, Buprenorphine, and Extended-release Naltrexone at Substance Abuse Treatment Facilities: 2003-2015 (update). The CBHSQ Report: August 22, 2017. Center for Behavioral Health Statistics and Quality, Substance Abuse and Mental Health Services Administration, Rockville, MD.
His desire to reach the youth before they entered a life of drug and crime like his own helped to keep his focus on the vision God gave him. He was willing to serve wherever God led him, and that journey was to begin in Cumberland, Maryland.
He had never been there before, and with the limited funding to begin his ministry, his wife Dian helped by holding yard sales and fundraisers. She had been a chaplain secretary in a maximum security prison. She understood the vision Carlos had been given full well.
When Carlos began, he would speak quite frequently of his experience. He was testifying to a packed church two to three days a week. He was invited to speak at churches, local health departments, police departments, high schools, and other groups. Carlos brought the truth that rehab facilities without the love of God and the testimony of Jesus Christ were not the solutions to the drug epidemic. And it is through his gifting that he can speak this truth to any denomination, any organization, or any youth group and proclaim the gospel of Jesus Christ without someone being offended.
"Jesus Christ does not do rehab. He changes you," Carlos stated. "In order to be changed, you have to be born again. There just is no other way. You have to allow God to come into your life and let Him take you down; then He can build you up again."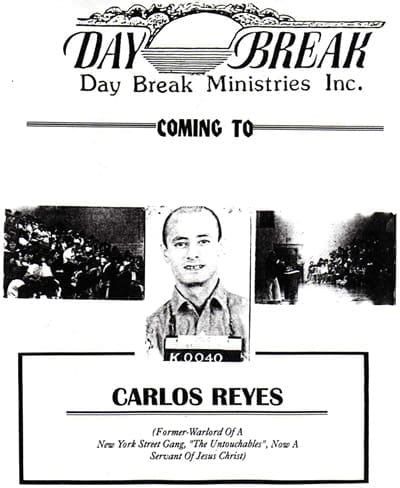 At one of those early services, Carlos prophesied that if churches didn't form an alliance and go on the offensive, they would be in trouble. The drugs and crime that he finally escaped from in the city would eventually creep into the rural areas. If they didn't start planning now, it would overtake those communities. Just like getting an annual physical for prevention, the church should attack the problem from that angle and keep it at the forefront of its missions.
Invitations slowed down over the years for speaking engagements, and his fear of complacency on the drug front within the church community had come true. When he began, he was speaking to teenagers. Still, over recent years, the progression of drugs invading rural areas has exploded. He is now seeing children as young as 9 years old suffering effects from the drug culture.
"If we don't," Carlos lamented. "If we don't somehow create a better culture for the younger generation–we have to remember they are going to grow up and become our judges and attorneys–and build up character in them, so they eventually grow up and be productive citizens, it will not get better."
"When I had three kids in middle school," Dian said, "it was different."
"We really didn't see much of the problems you see today. There were more family units. Carlos used to say if the churches don't band together, the wall of filth that comes from the deep inner city would roll into our decent communities and infiltrate the areas. That is precisely what we see now. Now, we see more and more of our friends raising their grandkids.
"Something I think the church needs to get a hold of is that the church has become just a building. If we don't come together as neighbors and friends in a community of believers, and if we don't give up the attitude of 'you go here and do this' and 'I'll go there and do that,' we'll lose the fight.
"It is like knowing there is a hurricane coming," Carlos added, "and not preparing for it. It is foolish.
"We have a way of changing things so they don't look so bad. We now call it an 'opioid epidemic' instead of what it is: a drug epidemic. I call it the way I see it: it is a DRUG epidemic.
"People will say, oh, you were a drug abuser, and I would say, 'no, I was a junkie–a drug addict. I didn't belong to a social club; I belonged to a gang–you know?"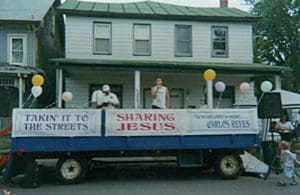 Changing things to make them appear softer or not as bad doesn't give the full truth of the matter. In today's society, the lack of the truth has contributed to glamorizing drugs in Hollywood movies and portraying their use as a social norm. Marijuana use has become acceptable because the culture has changed, and some states have voted to allow recreational use of it. The culture, at large, disregards how it can be used as a gateway drug. Medical use is a different discussion, but human behavior repeatedly shows, more often than not, that starting recreational use with a small high, whatever the drug of choice is, raises the odds of wanting to move on to that next new high. And that means trouble.
"We don't even have to call the Christians or the church out," Carlos said.
"If we just call the decent people out. The people who still believe in hard work. The people who believe in a handshake. The people who still believe we can tell them the truth. If we can call them out, to come out and be part of the process, we would have the answer to the drug epidemic."
Signs are pointing to our society losing the battle against drugs, with now over 14,000 drug rehab facilities in the country.* The National Institutes of Health reported from those 12 and older that although drinking and smoking tobacco had declined, after drinking alcohol, marijuana has the highest rate of dependence or abuse among all drugs. In 2013, 4.2 million Americans met clinical criteria for dependence or abuse of marijuana in the past year—more than twice the number for dependence/abuse of prescription pain relievers (1.9 million) and nearly five times the number for dependence/abuse of cocaine (855,000).**
"I asked myself," Carlos remembered, "how in the world did I get here? It all started so innocently with a marijuana cigarette. The next thing you know, we did some drinking. The next thing you know, I'm doing some pills. The next thing you know, I'm doing heroin. The next thing you know, I'm in prison.
"I call it walking dead. You're dead inside, but you don't know that you are.
"If you have a broken leg, you need somebody to help you walk. And you see, there are a lot of broken hearts out there. There are a lot of grandmothers, moms, and dads out there–it's a mess! I believe this is a great opportunity for the Church. Church people want to hear the excitement that God is–God is energy and power. That's what makes Him so unique. He has all this power, yet He is merciful."
Abuse of tobacco, alcohol, and illicit drugs is costly to our Nation, exacting more than $740 billion annually in costs related to crime, lost work productivity and health care.

Source: NIDA. Trends & Statistics. National Institute on Drug Abuse website. https://www.drugabuse.gov/related-topics/trends-statistics. April 24, 2017. Accessed November 28, 2017.
Carlos knows from experience that there are three things drugs will always do. One, they will separate the addict from friends. They get tired of the lies, stealing, and deception that come with addiction and will avoid the situation after they reach the breaking point. Two, the family is the next to go. After the friends leave, addicts will turn to family members until that source also fades away because of the same reasons. Three, drugs will kill. Drugs make the bad thoughts come out in your mind, telling you you're nothing, you're worthless, you don't matter–you literally are the walking dead by then. The only reason at that point you are still alive is because you haven't found enough drugs to make you lay down and never get back up. You are entirely consumed with finding the next high by working an angle to get money and get the drugs.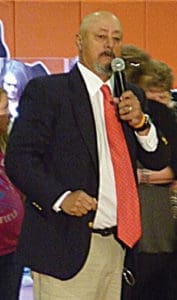 Carlos also knows from experience that there is a way to prevent and beat drug addiction: having a personal relationship with Jesus Christ and allowing Him to heal and redeem all that was lost to addiction.
"When I came to the Lord," Carlos stated, "it was easy for me to receive whatever He was giving me because I had nothing! Absolutely nothing! I was 115 pounds, had long hair, two earrings–a burned-out hippie.
"What did anyone see when they looked at me? Nothing, but God saw something! I believe God was determined to come into my life and change me and raise me up to be higher than any drug could make me. He took me from the ghettoes to the top of the mountain. I can speak about the glory of God because I have seen it in my life. The biggest miracle I have ever seen is every time I look in the mirror.
"I will never stop testifying because every time I do, it makes me more committed to the gospel of Jesus Christ."
Carlos again sees an interest in his story. It is a story that only he could tell and that only God could bring him through.
Carlos visits the Buckhannon area regularly and preaches in The Way of Holiness church off Route 33 in Upshur County. Pastor Jerry Murrell has been a close friend for the last 25 years, since the days at the Turkey Run location.
"Pastor Jerry and his wife Tammy," Carlos noted, "have been such a blessing to us over the years."
Carlos ministered at the Living Word Church of God on Thurman Avenue in Buckhannon during their revival service in October 2017, where they saw a record attendance and continues to spread the Gospel wherever he can.
Carlos believes the time is now to initiate the 4th quarter blitz and hit the drug epidemic head-on by traveling and educating as many as possible.
---
2023 Northern Appalachian Teen Challenge Banquet
Happening November 10 at 7:00 p.m., the Northern Appalachian Teen Challenge will be hosting its Annual Banquet at the Bridgeport Conference Center (a ticketed event). The featured speaker is Carlos Reyes, a reformed gang fighter addicted to drugs and a former warlord in New York City, whose life was radically altered after his encounter with Teen Challenge founder David Wilkerson. Reyes' miraculous conversion led to him evangelizing across the nation for a time alongside Wilkerson and the infamous Maus Maus gang leader Nicky Cruz. He penned his autobiography, The Warlord, detailing his true story of redemption. Reyes is the Executive Director of Daybreak Ministries in Cumberland, MD, alongside his wife, Dian.
Contact Northern Appalachian Teen Challenge to reserve tickets by Friday, November 3rd:
304-933-3209 | wvteenchallenge.com
For more information, speaking inquiries, and information on The Warlord autobiography, please contact:
Day Break Ministries, Inc.
PO Box 7
Cumberland, MD 21501
240-727-7387
*Source: www.marketwatch.com; The U.S. Addiction Rehab Industry; Published: August 4, 2014.
**Source: National Institute on Drug Abuse; National Institutes of Health; U.S. Department of Health and Human Services.
Feature image: Bigstock.com