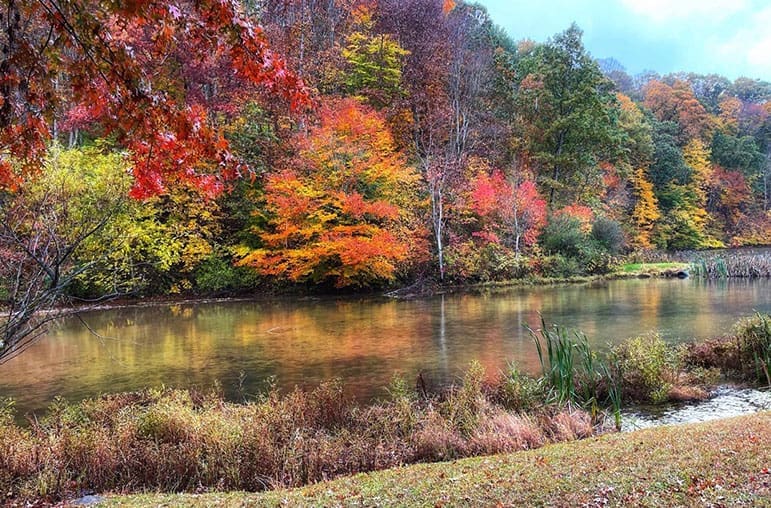 The past year has been one of the more challenging years of Liva and my fifty-eight years of marriage. When you are blessed to live as long as we have, you are well aware it is a natural part of life to lose family members and dear friends along the way. However, since August 2022, it seems like we have been unable to escape the grief process that goes with losing loved ones. What made this year more difficult is that we have had to say goodbye to the last of our closest relatives, whom we were blessed to have enjoyed a lifetime of love, laughter, and tears together. We are now experiencing a deafening silence! Our home phone no longer rings several times a day (yes, we still have a landline; we are that old), our cell phones are silent as those fun texts and photos that dinged so welcomely now no longer appear, and our family events seem fewer and less joyous. Coupled with the loss of longtime relatives, too many of our intimate friends have passed on, adding to our emptiness. Within the past ten days, I have attended two celebrations of life for two dear friends who meant so much to me. Both deaths were unexpected as both were looking forward to new adventures. But heart attacks stepped in and quickly claimed both. Fortunately, they were men of great faith who lived lives helping others, and when their time came, they were prepared to go home. They would tell us to continue helping others and doing good where we could or, in other words, emulating them. I will miss them dearly and will try my best to follow their example.
I feel equipped to follow their example because of another amazing child of God, a dear friend whom Liva and I lost on July 17, 2023. Her name was Jenny, who often referred to herself as "I'm just a girl who loves Jesus." While her full name was Jennifer Daum Pfister, to me and many others, she was just "Jenny," like the one-name celebrities Elvis, Cher, Kobe, etc. Like them, you always knew when Jenny was in the building. She was gifted with so many talents: Bible scholar, storyteller, teacher, preacher, prayer leader, musician, worship leader, Christian writer, singer, pianist, poet, humorist, counselor, and anything else she needed to be to share the Gospel. To Liva and me, she was a dear friend. Her kindness always seemed to flow our way in a time of great need.
One spring early in the pandemic, I was recovering (and not well) from triple bypass surgery. I'd get a text once in a while from her letting me know that she and the worship team were praying for me. I must have mentioned how much I missed hearing them sing. Oh, how they could sing! A couple weeks later, they were set up in our front yard on a beautiful day, putting the birds to shame with their beautiful singing for well over an hour. Some neighbors said they stopped what they were doing and listened along. I recorded some of the songs, "Victory in Jesus," "Days of Elijah," "Evermore," and "Every Praise," to name a few, that they sang that morning. What a blessing that was for Liva and me! What a blessing Jenny was to so many people in so many different ways! Losing her so quickly was beyond painful, even though we all knew she was where she always wanted to be, with Jesus. Thankfully, she prepared many of us to continue to perform Jesus' work. Her impact hasn't ended; her ministry and legacy will live on through her One Brushstroke at a Time TV ministry, in her In Moments Like These devotionals, and through the lives Jesus touched through her Holy-Spirit-led wisdom. Let me share how she impacted my walk with Jesus.
I loved Jenny's sermons for many reasons. They were always scripture-based, spirit-led, and often convicting. I enjoyed how she would sprinkle her wit throughout, always keeping it interesting and inspiring. Since being saved, I have always looked for takeaways from Bible study discussions, devotional readings, sermons, etc., that I can apply to my life to help me become a better servant or prepare me for more effective witnessing. There was a time when most of what I heard or read had little effect, as I thought I knew it all, and I was comfortable just showing up for church or Bible study. While I may have found things interesting occasionally, there was little change in my life, and no growth would occur. Now, I'm intent on listening for what God is trying to tell me or, as some of my Band of Brothers say, for that nugget they can apply to their lives. None of us are complete in our transformation. Peter would tell us we need to be about growing in grace and knowledge of our Lord and Savior, Jesus Christ (see 2 Peter 3:18). Paul would say to us it is a lifelong process. Jenny definitely had a divine anointing for teaching and preaching God's word. If you paid attention to her sermons and had a willing heart to grow, the Holy Spirit would let you know how. I learned so much from Jenny. She influenced my life immensely.
I am going to share with you one of her most impactful sermons on my walk with Jesus. But before I do that, I want to mention Jenny's last sermon. It was on July 9, 2023. Those of us who were there that morning will never forget it. It was prescient, almost like she had an inkling of what would soon happen. She was in rare form in a bubbly, upbeat mood, even a little mischievous. She shared that she and some friends had made a quick trip to a favorite restaurant near her hometown of Baltimore, Maryland, one owned by a friend in her youth. His name was Brad. She was delighted that Brad remembered her and that she and her friends had such a lovely time on their quick getaway trip. Her sermon that morning was on Psalm 112:6 (NKJV), "The righteous will be in everlasting remembrance." She talked about one of her favorite flowers, forget-me-nots, growing along a stream.
Interestingly, she described a scene I had just photographed at Prickett's Creek in Marion County. It was of forget-me-nots lining the stream's bank. I thought, "I will get that photo printed and matted for Jenny. I think she would probably like that." Well, that never happened as Jenny got something better, something she always dreamed about–meeting Jesus face-to-face.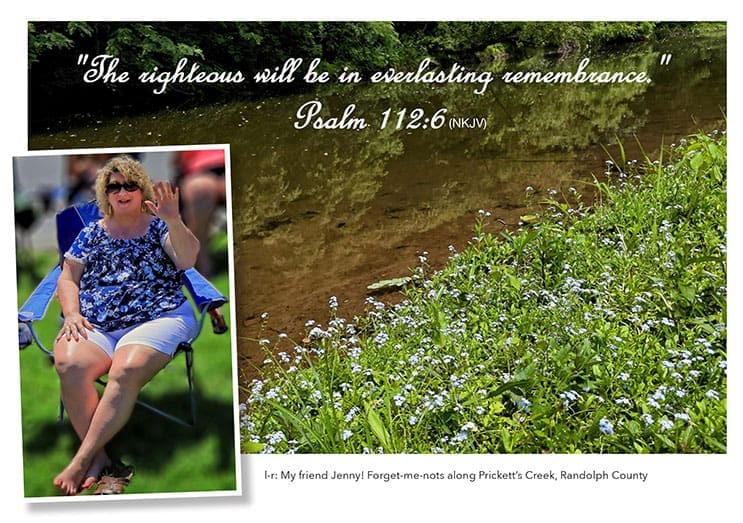 Now, to the sermon that means so much to me. I call it "Hur Sermon." Hur is not some woke nor misspelled pronoun; it is the name of a seemingly insignificant person in the Old Testament, one who is barely mentioned. We learn of him briefly in the Book of Exodus. Jenny was terrific in bringing to life these lesser saints in the Bible. We are all aware of the great saints, such as Daniel, Joshua, and Samuel, who had books devoted to them about their service to God. But many lesser-known people didn't have a book written about them. However, they still played a vital role in God's plan. Hur was one of those, even though he received only a couple of brief mentions. But his position was huge, impactful, and well-rewarded. Jenny not only shared Hur's story, but she did as she always did, and that was to explain, inspire, and motivate how the lives of these Biblical heroes can be role models for us. Her message on Hur had such an impact on me that day several years ago and still does today. I'll try to explain.
Hur, The Israelite
There are three people named Hur in the Old Testament, two mentioned in passing and one more well-known Israelite from the tribe of Judah (see Exodus 31:2). He must have been in a position of authority as his two major mentions have him being with Moses and his brother Aaron, both performing important roles for Moses. Maybe Hur was an elder as God would instruct Moses to take elders with him on various occasions (see Exodus 17:5). When Moses sent Joshua and his men to fight the Amalekites, he took Aaron and Hur on top of a hill overseeing the battle. When Moses held his rod high in the air, which he did per God's instruction, Israel prevailed, and when he lowered the rod, the Amalekites prevailed. As Moses tired, Aaron and Hur put a stone under Moses so he could sit down. Aaron and Hur then took Moses' hands, lifted his arms high, and kept them steady until sundown, allowing Joshua to defeat Amalek (see Exodus 17:8-16).
Hur's role was huge, along with Aaron's. They allowed Joshua to prevail over Israel's bitter enemy. How tiring it must have been to hold Moses' arms, hands, and rod that high for so long. If they had failed, the Amalekites would have defeated Israel and most likely killed Joshua, preventing him from taking the Israelites into the promised land. God put Hur and Aaron in place to ensure His plan and promises remained unbroken and on target. Hur is mentioned again in Exodus 24:13-15 (NIV), further confirming his stature in Moses' hierarchy: "Then Moses set out with Joshua, his aide, and Moses went up on the mountain of God. He said to the elders, "Wait here for us until we return to you. Aaron and Hur are with you; anyone involved in a dispute can go to them. When Moses went up on the mountain, the cloud covered it." While Moses was on Mount Sinai, the Israelites rebelled, eventually leading Aaron to create a Golden Calf, greatly offending God. There is no mention of Hur after Moses' ascent up the mountain. So, it is unknown what role, if any, Hur played in this rebellion. However, Jewish tradition has Hur being killed by the idolaters, but there is no Biblical reference to such an act. Hur's grandson, Bezalel, was chosen by God as one of the key artisans for building the Tabernacle (see Exodus 31: 1-5). What an honor that was. Again, it is unknown if this is the same Hur's grandson, but Jewish tradition believes it is. The honor bestowed on Bezalel would be a fitting reward for his grandfather's faithfulness.
Jenny's sermon covered the most important part of Hur's story, his willingness to take on the role God gave him for as long as it took, no matter how difficult it became. Did Jenny live that story? Absolutely! Her physical ailments and health issues would have set back even the most committed among us. Not Jenny; she knew God wanted her all in until the end. She willingly obliged to carry out the role God assigned her. Like Paul, she was faithful to her call, always striving to fight the good fight remaining faithful to the end (see Timothy 4: 6-8). Why? Because she eagerly looked forward to seeing Jesus and receiving her crown of righteousness. What a moment that must have been, to which "I raise a hallelujah" in the presence of everyone. I am referencing one of Jenny's favorite worship songs for those who don't know.
I remember Jenny saying we can and should all be like Hur, no matter our role. She reminded us that there are pastors, missionaries, and other spiritual leaders out there fighting the enemy that need our support through prayer, encouragement, and even financially. I remember thinking I could do that; it is a role I have happily taken on. What a takeaway that was! It is a privilege to emulate Hur, and I may have totally missed it if I had not been looking for something to take away that morning.
I also remember Jenny saying, not necessarily that morning, that we all have roles to play. We weren't saved to float along on fluffy clouds watching our favorite TV shows and ordering in pizza. And she'd be quick to say, "And I'm a girl who loves pizza." I loved it when she would say, "Come on, church," after some point she was trying to get us to understand. Listening to her sermons over the years, you learn that picking up your cross and following Him doesn't suggest a life of ease. God's work takes diligence for as long as it takes. I am trying to do that in my walk with Him. And I wouldn't want it any other way.
Much of my work with the Band of Brothers' annual Help Us Help Kids campaign reflects what I've learned from Jenny and other lifelong servants. Early on, I realized it was essential to determine God's will for my life. It took conscious effort through prayer, Bible study, and listening for what God was saying to me whenever I came into His presence. I have discerned that one of my roles is to do good by loving others as much as possible for as long as possible. I wasn't called to be a preacher or a missionary; much to my chagrin, I have zero musical talent, which rules out so many enriching ways to serve. I lack so many other useful talents that could make a difference. However, I am blessed with some talent for photography, and people like my stories, so I try to use those to "Reveal God's Glory" and as a means of helping those less fortunate.
This has also been a tough year health-wise for me. It started last fall when I learned two of my triple bypasses had failed, and only one could be opened via a stent. I didn't give up, as I believed God had more for me to do. I began working hard to build my strength and started feeling better within myself. Then, in March, I had to be hospitalized with pneumonia, another month or so setback. Fortunately, I recovered and started back on the therapy routine as soon as possible. Then, about a month ago, I got the latest strain of COVID that laid me up for three weeks. And, of course, the aging process marches on as I just turned 81. It would be easy just to kick back and say, "I'm done. It's time to take it easy; let someone else take up the load." However, I've learned that we shouldn't view our time as selfishly as our own. It really is God's time, and we should spend some of it on His work. Paul encouraged the Galatians and Thessalonians to not grow weary of doing good. I believe we need to be like Jenny and be faithful to what God has called us to do. For me, that is "not to become weary in doing good" (Galatians 6:9 NIV). In my last testimony, I wrote about integrity, "about doing the right thing all the time." If I can continue to do good for as long as possible, I will have achieved my goal of living a life of integrity, just like Jenny and Hur.
Become Hur-like and help us battle hunger this Christmas.
To close, I'll mention our Band of Brothers' 2023 Help Us Help Kids campaign, through which we help so many underprivileged children at Christmastime and assist families to help put food on the table. In addition, we support several missionaries who are called to serve in some of the world's poorest places and take the Gospel to faraway places. The stories we hear are heart-wrenching. In this capacity, we are emulating Hur. His battle was against the Amalekites, the enemy of his day. Today, we battle hunger and help spiritual leaders battle Satan. It is an important work of our day. If you would like to assist us, you can purchase our West Virginia Scenic Calendar or donate to the Band of Brothers. As you might suspect, the need is enormous. We are thankful that we can do our part and for the generosity of so many Hur-like people.
See ad in the October-November Glory Magazine or contact: Al Tucker 304-704-4292 or visit Al Tucker's Facebook page for more
I pray that Jenny's sermon and my testimony will inspire you to ask yourself these questions:
How can I become "Hur-like?" Whose hands and arms can I lift high? Can I run the race till the end?
God has so many roles for us to play. Seek Him out for what He wants of you. God doesn't need us on the sidelines. He wants us in the battle. Always remember, "As we have opportunity, let us do good to all people" (Galatians 6:10 NIV). That and prayer will help you find your role. It did for me.
Until next time, Happy Thanksgiving and Godspeed!
Main Feature Image: Deegan Lake, Harrison County © Alan Tucker; additional photos © Alan Tucker; THE HOLY BIBLE, NEW INTERNATIONAL VERSION®, NIV® Copyright © 1973, 1978, 1984, 2011 by Biblica, Inc.® Used by permission. All rights reserved worldwide.; Scripture quotations marked NLT are taken from the Holy Bible, New Living Translation, copyright © 1996, 2004, 2015 by Tyndale House Foundation. Used by permission of Tyndale House Publishers, Inc., Carol Stream, Illinois 60188. All rights reserved.; Scripture quotations marked NKJV are taken from the New King James Version®. Copyright © 1982 by Thomas Nelson. Used by permission. All rights reserved.