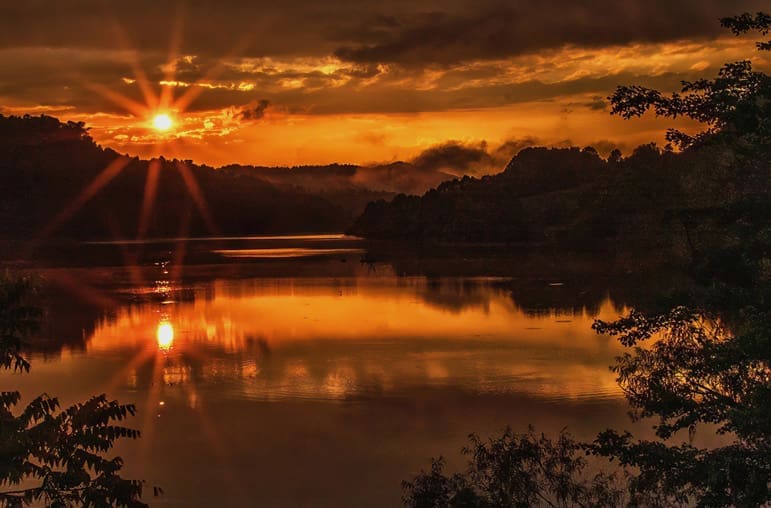 'Help Us Help Kids' Update
I celebrated my 80th birthday on August 31, 2022. Never in my wildest imagination would I have thought my best birthday gift turning 80 would be learning that my physical heart was wonky. Wonky? What in the world is that? Well, I still have a lot of English heritage in me, and wonky is a British term that I still use. In our Appalachian vernacular, it means "it ain't working properly, i.e., something must have gone haywire!" I wasn't totally surprised, though, as I had suspected since my triple bypass surgery back on December 14, 2020, that I wasn't making good progress like those around me nor like others who had bypass surgery in the past. A month after my surgery, my surgeon said I would be like "brand new" in a year and ready for a hundred more years. I told him I'd be happy with ten. Even though I worked very hard at rehab and continued that work afterward, I could never get my strength and stamina back, and I slept way too much. The bottom line was I never did feel brand new, so something must have gone wonky.
Last April, I tried to convince my cardiologist that I was either over-medicated, hadn't healed properly or something else was amiss. I tried to convince him that I shouldn't be that tired and sleepy all the time. I did get some good days, just not a lot of them. But, looking back on it, I probably overdid it and then paid the price for it. For example, in June, we held our camera club picnic at a member's farm with a beautiful lily-covered pond. I felt good that day, which happened to be very hot. I ended up in the sun way too long taking photos. Driving home, I hit the wall, and it took me several days to recover. No matter how bad I felt, I didn't just collapse on the couch and vegetate. I tried staying as active as possible, mostly working in my garden. I did step back from my photography considerably as I often didn't feel up to it, and I was leery of heading out by myself. I am blessed to have a good friend who took me out several times, mostly on short outings involved with his work. I decided to stop going to cardio therapy in May or June so I could have some energy to work in the garden, as there were projects I wanted to complete. As the summer went on, I could feel myself regressing as I started to experience uncomfortable light-headedness and spacey feelings added to the lack of energy and continued erratic blood pressure readings.
On August 30th, I had a regularly scheduled cardiologist visit, and I again related my tale of woe. That led to a plan to keep a detailed diary for a few weeks to include tracking blood pressure, frequency of naps, and any abnormal symptoms. I mentioned that I had tabled my photography for the second straight year, but I had hoped I could go to the mountains and shoot some in the approaching fall. The doctor indicated that I should be able to go, not do anything over-strenuous, and not head out someplace by myself where no one knows where I am. So, the next day on my birthday, I packed a lunch and headed for the Red House/Deep Creek, Maryland area. I didn't make it to Deep Creek. I stopped at a few places here and there to take some photos on terrain where I didn't need to exert myself. Then I found a nice sunflower field and decided to stop. The owner lived beside it, and I got permission to walk around. Due to the direction of the sunlight, I decided to walk up a slight grade that went for several hundred yards. It didn't look too daunting. About halfway up, I started to experience pain in my back between my shoulder blades. I knew right away what it was. It was the same pain I often experienced the year before my bypass surgery. I stopped to rest for a while and then slowly walked back to my car and headed home. I had proved to myself that my heart had some serious issues.
When I got home, I didn't go to the ER because I was feeling better. I sent my cardiologist a message as it was past office hours, hoping he would see it soon. Unfortunately, it was coming into Labor Day weekend, and I didn't hear anything until the following week when I got a message saying I was being scheduled for a stress test. For a brief few moments, I was pleased: finally, some action that should have been taken much earlier in my so-called recovery. But I was at least relieved that maybe we could finally find out what was wrong. Then I saw that the test wasn't going to take place until October 24th. I was disappointed that it seemed so far out, which meant that my activity would have to be very limited to be on the safe side. Sadly, I realized I would have to scrap my fall photography plans for the third year in a row and would also have to scrap additional gardening plans I had for the fall. However, I did feel if I worked slowly, a few hours a day here and there, I could finish some projects that I started back in the summer. Thankfully, I was able to do that. But I had a huge decision to make.
When all this came to a head in late August, I was starting to prepare for our Band of Brothers' 'Help Us Help Kids' annual Christmas campaign. The week before my birthday, I had sent the photos off to the printers for our annual West Virginia Scenic Calendar, which we use to help raise money for the project. It is a project that consumes most of my time from early September through December. Not feeling well and believing there could be something serious going on, I was in a quandary as to what to do. It is a project that takes a lot of time and effort. I was concerned about whether I could do what I had done in past years. Everyone would understand if I cancelled it, considering my age and health situation. However, it would have broken my heart if I had not taken it on. I love the Lord so much and have felt for a long time that this is His will for me so that His light can shine through my brothers and me. I didn't want to let Him down, and I didn't want to let so many less fortunate children down. I needed guidance.
At that point, I did the most important thing I could do. I prayed on it. For most of my life, I prayed for the Lord to come and make me successful in whatever it was I decided I wanted to do. They were what I now call "my will prayers" be done. I now pray "His will prayers" and ask for guidance on what He wants of me. During my time of prayer and reflection over several days, I thought about our past campaigns and how my human nature made me worry about how could we accomplish all we set out to do? Then only to watch Him in action and amaze us when we invite Him to direct us. I'm often reminded of 2020, the year of COVID lockdowns, and we had no idea how we would raise money, let alone whom to bless. He knew, and it led us to raise a record amount (in the $50,000 range), and we could bless residents in thirty-nine North Central West Virginia nursing homes and the VA Nursing Home. That did it for me, "For with God nothing will be impossible" (Luke 1:37 NKJV).
Being reminded that all things are possible with God, I had my answer, let's get started. Looking back on it, I am glad my stress test was set for October 24th, as it allowed me to do what I needed to do effectively and to put things into motion. I quickly enlisted my brothers and some other kind souls to action in our goal to help those less fortunate during the holidays. Every year brings its own set of unique challenges. This year, we faced record inflation causing skyrocketing prices which made the demand for help significantly higher. We heard from various charitable groups that demand had tripled during this year's holidays (Thanksgiving through Christmas). We set a goal to raise $40,000 during these difficult economic times. We identified about twenty organizations that work directly to help those in need:
Many were local
Some were regional and state-wide
A few were missionaries who helped those in need in faraway places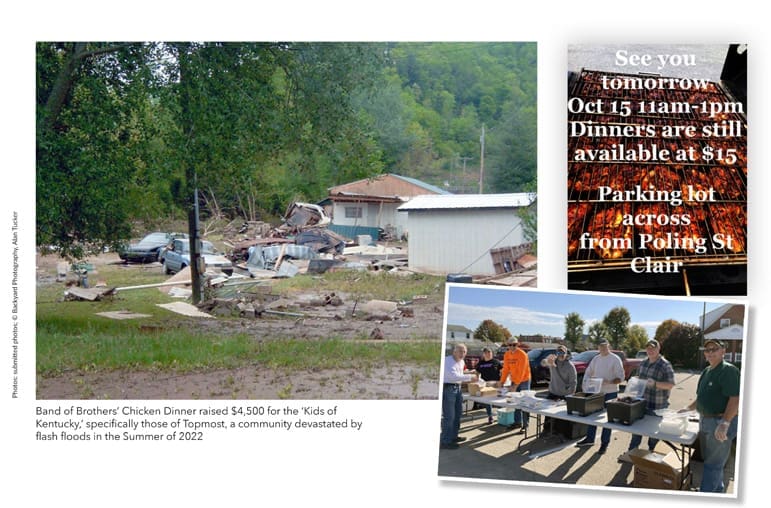 We kicked off our efforts with a chicken dinner sale to support a Kentucky community ravaged by horrific flash flooding that included significant loss of life. We called this effort 'For the Kids of Kentucky.' When southern West Virginia experienced its devastating floods seven years ago, we heard of many Kentucky groups coming to our aid. We felt it important to be there in their time of need. We provided funding for church groups to clean, help rebuild, and feed people during Thanksgiving and Christmas and to buy Christmas gifts for their kids. We were humbled to play a small part in that extraordinary effort that led one grateful person to say thank you for "restoring our souls."
While this work was going on, we worked hard to get a start on selling one thousand calendars and raising the money to help us reach our goal. Even though the time from early September to October 24th seemed to go fast, there were days I thought I wasn't going to physically make it. However, I believe God knew I needed something to keep my mind off of how bad I felt. My stress test finally took place, and I flunked big time, which led to a cardiac catheterization the following week. I was shocked, well maybe not, to learn that two of my three bypasses had failed. Talk about wonky. That was an understatement! No wonder I could barely make it through the day. However, I am so happy I went on that birthday outing to the mountains. Without that present (getting my cardiologist to realize something might be really wrong), I could still be struggling or worse. But the good news is one of the bypasses would accept a stent. While the second one could not, I can say that I felt much more normal than long before my initial surgery two years ago. While I might not be "like brand new," as my surgeon remarked a couple years ago, I'll gladly take my refurbished condition and say, "Thank you, Jesus."
'Help Us Help Kids' Calendar Fundraiser Update
With renewed energy, I was ready to refocus on our 'Help Us Help Kids' project. We were surprised by how quickly calendars began selling this year, and by early December, we were sold out. That was a first. On the other hand, donations started slowly but picked up steam as we moved into mid-October. We went into November at almost $26,000, and by the end of the month, we finished around $38,000, which was just short of our goal. Then by mid-December, after several large donations, we jumped to $48,000, well above our goal. This allowed us to extend our reach far beyond what was initially planned. By mid-month, we were able to disperse checks to twenty organizations that directly support those in need. While many kids at risk of receiving nothing did receive presents at Christmas, we funded considerably more food distribution efforts this year. The feedback we received from the various groups we assisted was humbling, heartwarming, and sometimes heartbreaking. When volunteers take presents to the door, and a child asks if they brought some food, it breaks your heart.
Similarly, it does when you show up with bags or boxes of food, and you see a child trying to hide some of that food. We have learned that kids will hoard food for those times when hunger sets in. Fortunately, the caring groups we work with try to ensure those families do not go without food deliveries for too long.
We initially dispersed $46,000 of what we had collected, holding back a couple thousand for contingencies that arise during the year, which we do every year. Then right after Christmas, we received a couple more wonderful donations that took our grand total to $51,500. The timing of that was perfect, as two new urgent needs surfaced: one resulting from a house fire where a family of four lost everything and the other to help fund a much-needed food/nutrition program in the far reaches of our county. It is amazing how those funds became available just at the time when they were needed. I love God's perfect timing, once again proving that "all things are possible with God."
So here we are, it is early February, and God has taken me and my Band of Brothers on another incredible journey as we try to live out our faith. Back in mid-summer, I was broken goods bodily-wise. Only I knew that my heart was wonky in a physical sense. But spiritually, my heart was strong and has been since I was saved almost eight years ago. I am blessed to be a part of our fellowship group, as my brothers play a huge part in my faith journey. I marvel at their individual ministries and their love of serving the Lord. They are incredible role models who have taught me so much, and they have been there so many times for me.
I'll share one story of the journey. In October, I was on a state-wide Saturday morning radio show where a friend invited me to join him to get the word out on our 'Help Us Help Kids' project. Early in the broadcast, the host asked, "Who is this group called the Band of Brothers?" I replied, "We are a small group of a dozen Christian men from several different churches in Upshur County who love the Lord and love to serve Him. We came together ten years ago for a Bible study that we call Fellowship Friday, and we meet at 6:30 a.m." Surprised, he remarked, "6:30 a.m.?" I told him that some of the brothers are still working while the rest are retired. Then he wanted to know about our 'Help Us Help Kids' project and the role of the calendar. He also asked, "Who is in charge of the group?" I told him, "Jesus, we follow His lead and do what we do for His glory." It was a good opportunity to share who we are, what we do, and how we do it. On my way home, my phone rang, and a gentleman said he had listened to the show and was led to call and commit $500 to our project. He met his commitment. This is just one example of how "God makes things possible" for our project.
Before I close this testimony, I want to emphasize that we are just ordinary people who love the Lord. We love to study His word and apply it to our lives per His calling for us individually. We do what we do so His light can shine through us. It is not for our glory but His. It is what fuels our faith journeys. If you live locally and want to join us, e-mail me at [email protected]. You and your friends can begin a similar faith journey by forming a small group of men or women or both, committing to meeting regularly to study and discuss His Word, and inviting the Lord to guide you. With Him, nothing is impossible! That's what we did, and ten years later, we are still going strong, all because of Him. If you have questions, don't hesitate to e-mail me. God bless you, and may 2023 be a year where His light will shine through you brightly.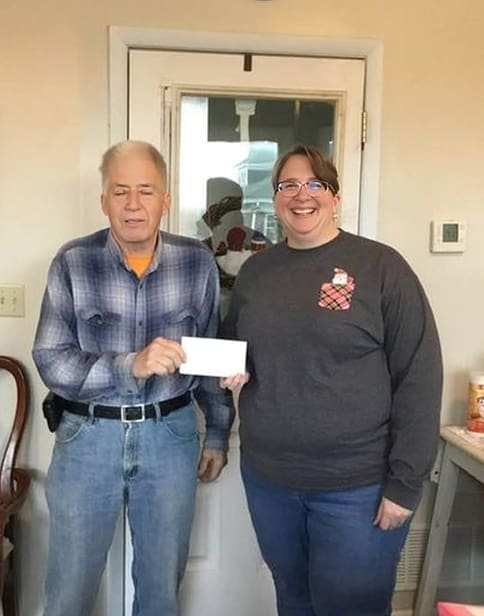 Main Feature Image: Stonewall Jackson Lake sunset, Lewis County, July 29, 2022 © Alan Tucker; additional photos © Alan Tucker; submitted photos. | THE HOLY BIBLE, NEW INTERNATIONAL VERSION®, NIV® Copyright © 1973, 1978, 1984, 2011 by Biblica, Inc.® Used by permission. All rights reserved worldwide. | Scripture quotations marked NKJV are taken from the New King James Version®. Copyright © 1982 by Thomas Nelson. Used by permission. All rights reserved.