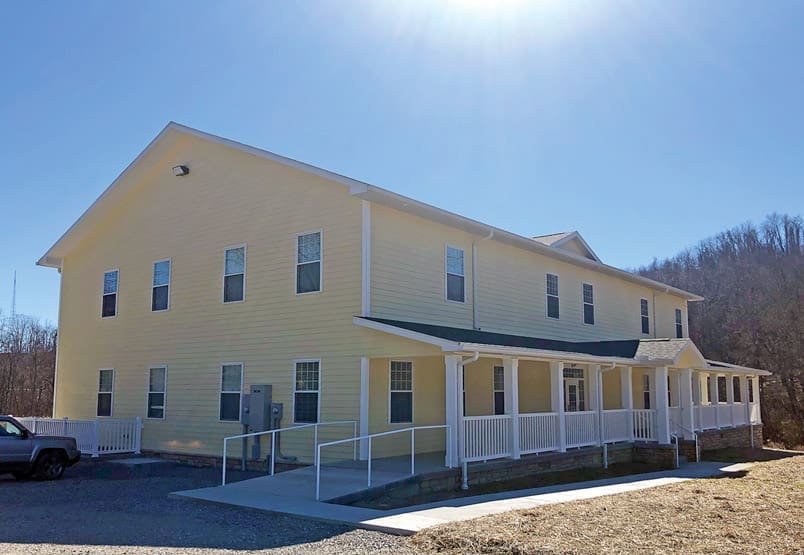 Nestled in a curve along Good Hope Pike in Clarksburg, the newly finished Northern Appalachian Teen Challenge women's facility is destined to become a beacon of hope for young women across the region. The center recently opened and is now preparing a way for women under the influence of addictions to take back control of their lives through godly principles and proven Christ-led programs.
David Wilkerson founded Teen Challenge in 1958. It was established to help teenagers overcome addictions after Wilkerson, a small town preacher from Pennsylvania, was drawn to New York City to help counsel young gang members who were on trial for murder. He was unsuccessful in getting to the boys but soon discovered there was a drug epidemic within the teenage gangs on the streets of the city. He felt compelled to stay and did a series of rallies where many of the gang members received Christ as their Savior. Two members, Nicky Cruz and Israel Narvaez from the infamous Mau Maus gang were among those professing Jesus as their Lord. They even turned in their weapons for Bibles.
In the December-January 2018 issue of Glory Magazine, we featured a story on Evangelist Carlos Reyes, one of the gang members who gave his life to Christ and began a new path through the help of Nicky Cruz and the founders of Teen Challenge.
The Cross and the Switchblade, the book Wilkerson wrote and published in 1963, tells the story of Teen Challenge. Over 11 million copies were sold in the ten years after its release. It is still available today in paperback and for digital download where books are available.
The program is Christ-centered and helps participants not only leave a destructive lifestyle but also heal their body, mind, and spirit, and restore hope in their lives.
The Northern Appalachian Teen Challenge (NATC) began as an outreach and referral location doing 9-week programs and referring others to the Adult and Teen Challenge, Appalachian Region facility in Athens, WV, which housed both girls and boys at the time. Early on they saw a great need in West Virginia for a full residential facility here in North Central West Virginia.
Leadership at NATC changed in May 2017 as they neared completion on the residential project. While seeking candidates for a new director, Jim Nickels, executive director for the Adult and Teen Challenge, Appalachian Region became the interim director and Aaron Plumley, a graduate and intern of Teen Challenge, was preparing to move into his new position as the program director at NATC.
As the program director, Aaron's duties were contacting donors, assuring them the ministry was stable, and that plans for the housing facility were moving forward.
"My job was communication and relationship building," Aaron said. "A pastor friend of mine calls it 'friend-raising.'
"That was my job as the incoming program director, along with maintaining normal operations and fundraising. The entire community had poured so much into this project, and they had questions."
Knowing the executive director position was available, Aaron submitted his resume out of a sense of not letting a moment pass by then regretting he never even tried. He refused to let his past hold him back. To his delight, he became the executive director of NATC in August 2017.
"Since then," Aaron added, "we have moved forward tremendously. What had been going on a 5-year project took only a year to be completed and for us to open.
"I know it sounds cliché, but I really haven't done a lot. God has provided financially and in every other way. He has brought our staff together, including two interns and our business manager. We now have three full-time staff along with the two interns."
Aaron's wife Victoria, who is also a graduate of the Teen Challenge program, was brought in as the program director and intern director. With her addition, it made a direct impact on how the NATC would proceed with its housing. There was a great deal of deliberation about the direction of the facility and its close working relationship with the Athens facility. At that time, the Athens location housed both male and female participants. After much prayer and discussion by the board, and as the peace of God fell on the room, the decision was made to convert the Athens facility to a male-only campus and the NATC would be an all-female campus. It was a win-win for both locations with more rooms now available for the males and a dedicated facility for women in Clarksburg.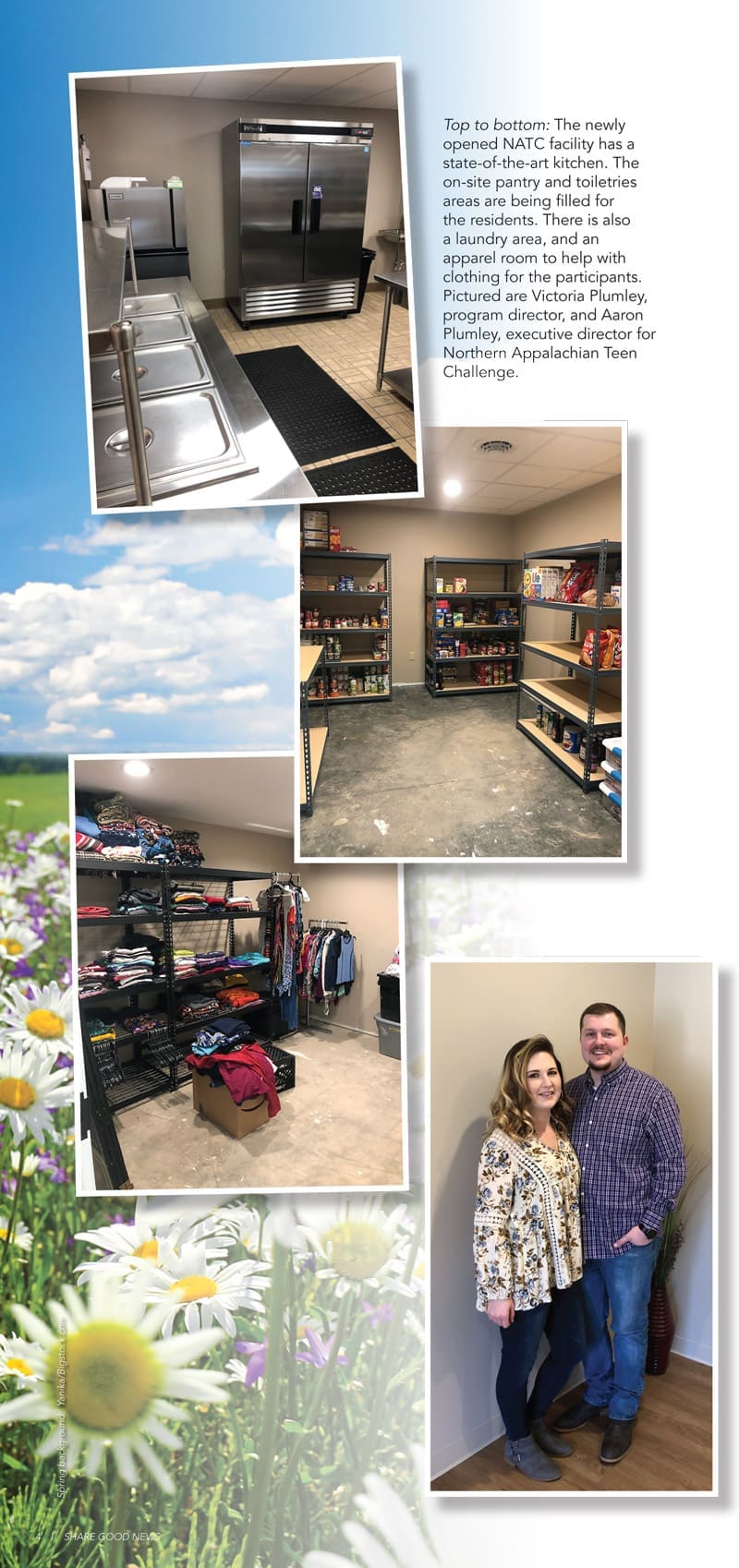 "We also plan to continue to develop our location with possible staff housing in the future," Aaron explained.
Being a graduate himself, Aaron has a unique skill set to use in his position as executive director. Those skills include first-hand experience of being on a path that leads nowhere and then being offered an opportunity to see hope again and rise above circumstances. God always qualifies the called.
"I began drinking and using drugs when I was in high school," Aaron stated.
"It was something I thought I could control. Just like every other testimony of an addict I hear. I was prideful and arrogant in thinking that this will never control me–yet it did.
"From 2002 until 2011 my addiction got entirely out of control. I was on oxycontin for several years. I was an alcoholic and living from place to place–couch to couch. It was a miserable lifestyle.
"I wasn't raised in a church. I had no idea who God was. I had no idea of what He could do. I had no idea about having a relationship with Him–no clue. Bible stories to me were just the ones you know as a kid like a sea had been parted, and I knew about someone building an ark and about someone hanging on a cross. I didn't know what that meant.
"For me, when friends suggested Teen Challenge to me as an option for help, I was scared. However, the more I struggled towards a secular fix, the more God opened the doors to Teen Challenge. When I went, I had no intention of serving God. Getting off drugs was my goal.
"I opened myself up to try something different that I had never tried before and it ended up being the best decision that I've ever made. God completely transformed my life!
"Everyone has those individual goals in life for a family, a wife, kids, a place to call your own–purpose. It's the same thing when being called into ministry. We all want a purpose in life. Over that span of 5 years, God gave me my wife through all of that. We are so equally yoked–it was crazy–but it was because of what we had begun at Teen Challenge."
Both Aaron and Victoria were transformed and given over to the power of Christ, and they choose to live their lives together committed to His call on their lives. Aaron is also working on his pastoral studies and continuing his journey in ministry.

Miracles Abound
The hard work began after restructuring the NATC and dealing with finances and operational expenses. "I watched God move in a board meeting," Aaron said. "I watched Him change the hearts of men, and move them to decide to do whatever it takes to get the NATC facility done." God was there to fulfill that obligation in His perfect timing through dedicated staff and the resounding monetary and spiritual support of the county and faithful donors.
"There has been so many blessings we could list over the past year," Aaron added. "People that have donated time, labor, and materials–there has just been so many things!"
Recently, another event happened thanks to a group of pipeliner's working in Clarksburg from around the country. A man who runs a local crew happened to be at a church service where Aaron and Victoria were giving their testimonies. They also spoke about the facility being near completion. The man had no idea where the building was because he was not familiar with the area. One day he happened to stop in the gravel driveway of the NATC to use his phone. He looked out his window and saw the NATC van sitting in the parking lot. His work site was just down the road! He walked up to the main door excited that he just 'happened' to be in the driveway. He came inside and announced he and his crew were going to take up a collection for them. He asked them for a banner so he could use it at the Friday morning safety meeting with a bucket for donations. He called a few weeks later letting the staff know he had a trailer full of food, toiletries, and household supplies to drop off. When he arrived, he also handed Aaron a stack of cash. He did that on two different occasions with the donation of money totaling over six thousand dollars!
There has been so many blessings and outright miracles associated with the NATC that no one could deny God's hand in all of it. One local company has also donated over three hundred thousand dollars to build the facility! Only God can release that kind of blessing!
A concern for the leadership of Northern Appalachian Teen Challenge is what happens to a person after they have completed the year-long program? Where do they start?
"We have talked a lot about a transitional program…" Aaron said, "something along the lines of an outside internship program."
Teen Challenge interns stay onsite and help with tasks for the facility. An outside internship would come from building relationships with local businesses that would partner with Teen Challenge and recruit graduates to participate in a real-world environment, while still having access to mentors. In turn, the experience would help build upon the foundational principals they learned while in the Teen Challenge program. Graduates can work on accountability and learn to live a different lifestyle than the one that led them to addiction.
"Even if they start out working at a fast-food restaurant," Aaron said. "God needs people everywhere. Don't let the fire burn out because you're not working at the ideal job, or you're not in ministry, or not in college, or whatever the case may be. Keep your fire burning!"
The National Institute on Drug Abuse's (NIDA) data as of March 16, 2019 revealed West Virginia had the highest rate of opioid-related overdose deaths in the United States in 2016*. In 2017, the Center for Disease Control and Prevention data revealed West Virginia had a 57.8 drug overdose death rate, highest in the nation, with the national rate at 21.7**.
With the increase of drug abuse, this epidemic touches most of us through a family member or friends. If it were someone close to you, would you agree that it is a life worth saving?
And as ye would that men should do to you, do ye also to them likewise.

Luke 6:31 KJV
The Northern Appalachian Teen Challenge women's facility is a safe place that is ready to help save lives. Through the dedicated staff, donations, time, and prayers, a culture of godly love has been established that exposes problems and allows God to fix them in a secure environment. Teen Challenge is real, proven help, led by the Holy Spirit that not only frees people from addiction but also sets them on a path to everlasting life. Your contribution of time or donation of money will help save lives.
For More Information:
E-mail: [email protected]
Office: 304-933-3209
Web: wvteenchallenge.com
Facebook: facebook.com/wvteenchallenge
Hours: 9-5 Mon-Fri, voice mail
For facility locations nationwide visit:
teenchallengeusa.com
*Source: http://wonder.cdc.gov **Source: CDC/National Center for Health Statistics; https://www.cdc.gov
Feature images: Glory Magazine