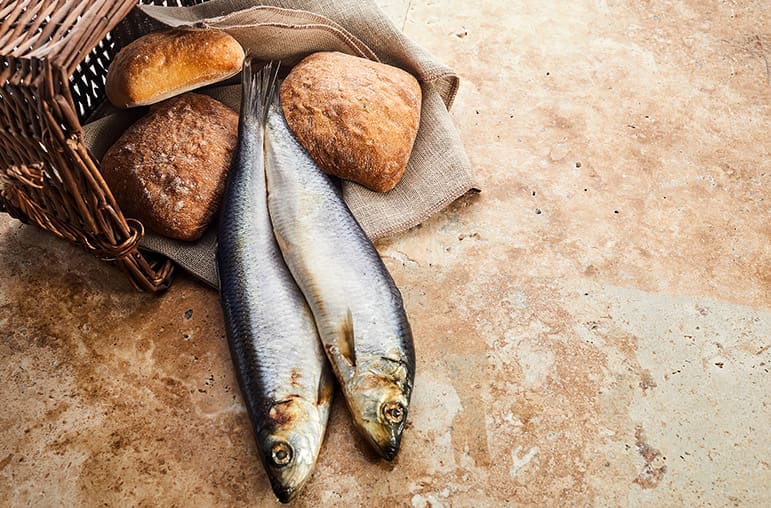 Everyone needs food. Our bodies need nutrients to operate. However, being made in the image of God, we are more complex than just amebas that came to exist in a conscience state. We are physical and spiritual beings because our heavenly Father God is Spirit. We not only need to eat to supply our physical bodies with energy, but it is imperative that we also feed our spirit. And if we give our physical bodies junk food and do not exercise, it leaves us with results of our actions in a state of dis-ease, unable to think clearly, and a place where our quality of life is limited. The same is true of our spiritual life. It can stagnate if we do not acknowledge that it exists and is more real than our physical state. And even if we recognize it but don't feed it, use it, or exercise it, we will have difficulty growing up spiritually.
For God hath not given us a spirit of fear; but of power, and of love, and of a sound mind.

2 Timothy 1:7 (KJV)
Knowing how to feed your body is pretty self-explanatory–we need to strive for the best food options available to us–but how do we feed our spirit and know where our physical and spiritual provision comes from? God has provided for all of our needs, including how to operate in the physical world. We are to be friends of the unrighteous mammon (see Luke 16:9-13) yet unchanged in our service to and love for God. If we are not faithful stewards in this world, how can we be trusted with true riches? We cannot serve God and mammon (Matthew 6:24; Luke 16:13). He is the provider of all things, including whatever provision is necessary to perform His will. He is God: I AM THAT I AM. He has always existed; therefore, He has always provided.
The following is a beautiful example of how God supplies everything we need. Having unwavering faith in Him, entering into His presence, and giving thanks and honor is a powerful way to live. Knowing your provider and that your source does not come from your job, 401(k), spouse, or family; it comes from your position as a child of God, which is invaluable. We must steward the wealth He provides, yet our posture must be from one where He gives us the gifts, the talents, and the ability to be instructed in the ways of operating in the natural, as well as renewing our minds with the Truth of His Word. Again, all are priceless. Especially His mercy and grace as we mess up and try again.
Suggested Bible Study Reading
John 6
Matthew 6
Matthew 14:13-21
Mark 6:31-44
Luke 9:12-17
Did you know that Christ feeding the five thousand with five loaves and two fishes is the only miracle found in all four gospels:* Matthew, Mark, Luke, and John? (see above)
PASSOVER 2023: Wednesday, April 5 – Thursday, April 13
We begin in the book of John, chapter six, "And the passover, a feast of the Jews, was nigh" (John 6:4 KJV). Nigh means near; something is imminent and will soon come to pass. The Passover feast (established in Exodus 12:18) commemorates the Israelites' exodus from Egyptian slavery. The Paschal lamb was sacrificed, and its blood was used to mark the doorposts of the Jewish homes as a sign to the angel of death that they were to be spared from the death of the firstborn. And what happens next is most extraordinary.
Five Loves of Bread and Two Fish
How do you feed five thousand men with five loaves and two fish in the middle of a field? Focusing on John's version of events, Jesus lifted up His eyes and saw a large crowd, then asked Philip, "Whence shall we buy, bread that these may eat?" Breaking the sentence down, I see this in the spirit: "From where, from what condition, from what source, from what author or giver, in what market shall we purchase and redeem, the raised bread, shewbread, that these people may consume–Me? However, the disciples were not quite seeing in the spirit, only perceiving in the natural. Philip didn't have the correct answer, nor did Andrew, the brother of Simon Peter, but Jesus knew the answer and would prove it (see John 6:1-15).
Philip answers, "Two hundred pennyworth of bread is not sufficient for them, that every one of them may take a little." This perspective suggests the way to feed that many people was to use physical money. A pennyworth is a denarius. It was a Roman silver coin that meant "containing ten." It was equivalent to ten donkeys and was considered the ordinary pay for a day's wages. Two hundred days of working and getting paid by the Roman empire would not be enough to purchase just a little food for everyone. Not even enough to satisfy. From what perception did this answer originate?
Then, Andrew says to Him, "There is a lad here, which has five barley loaves and two small fishes: but what are they among so many?" This perspective reveals a little boy holding five loaves of bread made of barley, an inferior bread, one fit for beasts, and two small, insufficient roasted fishes. In Andrew's mind, such a small amount of food would never be enough for a group of people as large as this. What was Andrew's mindset?
The story of Christ feeding the five thousand with five loaves and two fish, being the only miracle recorded in all four gospels, should signal all who follow Christ to pay attention to it and live by it.
In Mark's version, the disciples tell Jesus to send the people away and for them to go into the field and into the villages to buy bread themselves. Their words reveal who they think is the source of the provision. They reply, should we go to market and pay two hundred denarii for bread to give them? Thinking they must use the money to purchase enough to feed them. He asks them how much they have and for them "to go and see." In Matthew 14:13-21 again, we see the disciples saying to send the multitude away so they can buy themselves food.
The disciples' perspective up to this point was you worked for a day's wage in the world market and used that for provision. Jesus was about to turn their worldview upside-down!
The Bread Of Life
Jesus commanded the disciples to "Make the men sit down." All of them sat down, arranged in rows by hundreds and fifties. When Jesus received the five loaves of bread and two fishes, He looked up. He recovered the lost sight of the seat of order of eternal things, the gospel, and prayed to God to bless the bread and fish and cause it to prosper. Jesus broke the bread into pieces and gave the fragments to His disciples to set before them and, similarly with the two fishes, as much as they desired. (In Mark's version, the text states that He divided and distributed the portions among them all. See Mark 6:41.)
Christ was restoring the divine order of the Kingdom that had been lost with the fall of Adam. We are to be engaged with what refreshes, nourishes, and supports our soul, not toiling in the world seeking things that perish. I see this as work unto the Lord and having our mind and soul set on and joined to the Son of man as our spouse, who provides everlasting life and is sealed by God. Our desire should be towards our first love. As believers, Christ is the Spirit we are bound to as the head of our thoughts, desires, and action. When we join Him and seek the Kingdom, provision accompanies our behavior.
But seek ye first the kingdom of God, and his righteousness; and all these things shall be added to you (see Matthew 6:33).
Later in John 6:29 (KJV), Jesus says, "This is the work of God, that you believe on him whom he hath sent." He explains that the manna provided to them while Moses led the Israelites in the desert was not bread from heaven but that His Father gave them the truthful bread from heaven. The bread of God is "he which came down from heaven and gave eternal life to the world." Give us this bread always, they reply.
And Jesus said unto them,
I am the bread of life: 
he that cometh to me shall never hunger; and he that believeth on me shall never thirst. But I said unto you, That ye also have seen me, and believe not. All that the Father giveth me shall come to me; and him that cometh to me I will in no wise cast out. For I came down from heaven, not to do mine own will, but the will of him that sent me. And this is the Father's will which hath sent me, that of all which he hath given me I should lose nothing, but should raise it up again at the last day.
John 6:35-39 KJV
The Bread of Life came down from heaven, the truth about how this world operates, who we are, and how we are to navigate through our time here to complete His will for us. The disciples saw lack before them, not yet knowing the truth. In other words, the bread of life, just then, had been proved in front of men before being placed in the final vessels. They saw how the world system operated, needing unrighteous mammon to purchase things, but now their minds were unveiled to their trustworthy source. Jesus' teachings provide us a road map for the strait and narrow path where opportunities for us to serve our Lord, choosing His way of operating in the natural over the systems of man, is where our provision comes from. Being obedient to the Word opens doors we could never open ourselves. It gives rise to opportunities we shouldn't have access to looking in the natural. God chose the foolish things of the world to put to shame (confound) the skilled experts, the learned. He selected the weak things to put to shame the boisterous and mighty. God has chosen even the "low born" and those treated with contempt by the world's elite. God renders what the world deems useless to Himself (see 1 Corinthians 1:26-31).
"All these things shall be added" are not just words that were spoken, containing no power. These eight words, written in red and spoken by Jesus, contain the supernatural power of God. They perform His will. He IS the Bread of Life, our provision. Make Him your first love. Honor Him. Commit to the Lord whatever you do, and He will establish your plans (Proverbs 16:3). Eat from the Bread of Life.
No man can come to me, except the Father which hath sent me draw him: and I will raise him up at the last day. It is written in the prophets, And they shall be all taught of God. Every man therefore that hath heard, and hath learned of the Father, cometh unto me. Not that any man hath seen the Father, save he which is of God, he hath seen the Father. Verily, verily, I say unto you, He that believeth on me hath everlasting life. 
I am that bread of life.
John 6:44-48 KJV
*Aside from the Resurrection of Jesus Christ
Feature Image: Bigstock.com | Scripture quotations marked KJV are taken from the KING JAMES VERSION of the Bible.