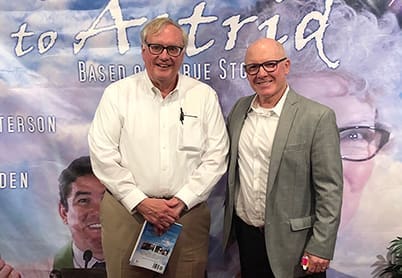 JC Films' A Promise to Astrid, was mainly filmed in Bridgeport, WV, and is based on the true story told in the award-winning book of the same name by Mike Tourville. The book is available online and at Amazon.com. The story is a heartwarming tale of how Astrid, a woman with a huge heart and quirky ways, impacts those who came to know her.
The film stars local actress JoAnn Peterson who brilliantly portrays Astrid Nicosia, Dean Cain, actor, director, and best known for playing Clark Kent in the TV show Lois & Clark: The New Adventures of Superman plays Pastor Scott Seabury, and Jeremy Gladen gives a standout performance playing Mike Tourville. Several locals were part of the project and appeared in the film.
JC Films is dedicated to producing high-quality faith-based films to engage and influence culture. With several movies including Finding Faith and Virtuous starring Erik Estrada, and the upcoming release of A Child of the King, also starring Dean Cain, JC Films is accomplishing its goal in record time.
Auditions for the newest movie, Zombie High School, which addresses bullying, were held in May at Bridgeport Middle School. Hundreds of hopeful actors and actresses and everyday folks showed up for a chance to be chosen for a role. Filming will begin shooting in and around the community of Bridgeport this July. If you are interested in getting involved with the film and about their upcoming projects you can contact JCFilms by visiting their website for more information.
Be sure to visit jcfilms.org to find out more about their Kingdom impact and to purchase their films.
Enjoy some of the scenes from the A Promise to Astrid premiere below.